Asylum Seekers Need Assistance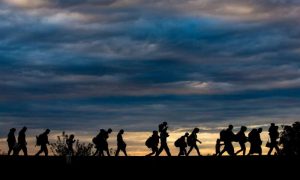 Asylum seekers (about 100 per night, many children) have begun being released by ICE at bus and train stations in San Diego. Faith communities in San Diego are working together to provide aid, including shelter at Christ Ministry Center and Our Lady of Guadalupe, until they can move on to more permanent settings. How can you help?
Purchase Items for Care Packages
Items needed are backpacks, diapers of all sizes, baby wipes, toiletries including feminine hygiene products, underwear especially for women, and socks. Nonperishable food that is lightweight and easily transported, especially baby food, granola bars, juice boxes, water 8 oz bottles, and snack food. Many children suffer from stomach issues, so Gatorade, applesauce, dried bananas, and rice cakes would be good. Coloring books and crayons for the kids. You can drop-off items at Good Sams on Sunday before each Mass or during the week in the main office between 9:30am and 3:00pm.
Donate Your Time and Talent
We need medical volunteers, drivers (to and from bus stations and the airport), intake staff, Dining Hall volunteers, shower assistant volunteers, runners, volunteer coordinators, door monitors, and document scanners & copiers. To volunteer, complete this form.