The Newman Center Catholic Community at UCSD is a Catholic Church in La Jolla that serves undergraduate and graduate students, faculty/staff, and alumni of the University of California, San Diego, as well as, others who value and support our Mission. We are located near the UCSD campus at 4321 Eastgate Mall, San Diego, CA 92121. Join us, all are welcome!
Sunday Masses
10:00am Monthly On-Campus, resumes Fall 2019
Daily Masses
Tuesday – Thursday:
Friday:
Adoration
Wednesday:
8:00pm at
CES
 (odd weeks of Quarter)
Reconciliation
Sunday:
First Friday of the Month:
3:00pm – 4:00pm at
CES,
resumes Fall 2019.
By Appointment:
Christian Life Community (CLC) GBM
Students are invited to make new friends while deepening their faith knowledge at CLC's relationship speaker series on Wednesday at 8:00pm at CES (Even Weeks of Quarter)
Thursday Night Dinner (TND)
Students are invited on Thursday at 6:30pm to CES for a $1 dinner (Odd Weeks of Quarter)
Bible Study
RCIA and Confirmation Sessions
Intramural Sports
During the Academic Year, To Be Announced
YAGS Weekly Gathering
Young adults (ages 21-35), generally already graduated, and graduate students are invited to attend a faith sharing and social gathering on Thursday at 7:30pm at the Newman Center.
Newman Center Catholic Community at UCSD
Center for Ethics and Spirituality (CES)
Find all past homilies here.
Jubilee of St. Aloysius Gonzaga, SJ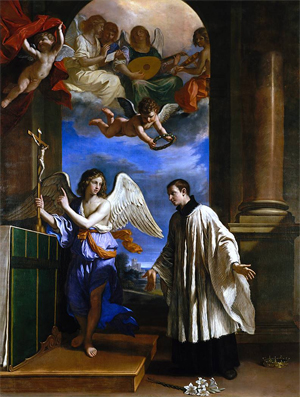 "March 9 marks the 450th anniversary of the birth of St. Aloysius Gonzaga, a Jesuit who gave up a privileged life to enter the Society of Jesus and died young — at age 23 — from the plague, which he contracted during his selfless care for the sick. [St. Aloysius Gonzaga is the patron saint of students and of those with AIDS]… the Holy See has announced the celebration of a Jubilee Year of St. Aloysius from March 9, 2018, to March 9, 2019. The jubilee is fitting as the church focuses its attention on young people with the October Synod of Bishops in Rome on "Young People, Faith and Vocational Discernment" and the January 2019 World Youth Day in Panama." Read full article. Read Father Arturo Sosa's, SJ, Superior General of the Society of Jesus, letter announcing the Jubilee.